Postet den:

26/05/2018

Kategorier:

Nyheder
Misool – The Art of Brewing Natural Korean Rice Wine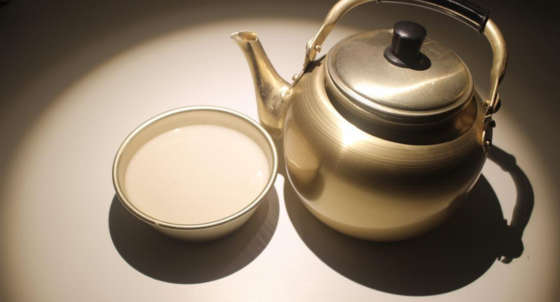 REGISTER NOW! DIY Makoli Workshop on June 15 and June 16 (45 min.)
Brewed from the bronze age with the start of rice farming, Makoli has always been home brewed farmer's drink to finish a hard working day.
FERMENTED LOCALLY
Europe's first natural Makoli (Korean Rice Wine) fermented freshly in Copenhagen.
NATURAL
We brew Makoli from three simple ingredients-rice, wild yeast, and water – without any additives.
MADE BY HAND
After washing, steaming and mixing rice, we use traditional Korean ceramics to mature the rice wine.
Makoli is traditionally aged slowly in low temperature in Oongis (Korean ceramics/amphore). The porous nature of the Oongi protects the wine against oxygen creating a fresher and fruitier wine with lots of complexity in both texture and body.
The exclusive workshop is organized by June Oh, a Korean chemical engineer with 2 years fermentation lab experience piloting beer productions. June is now living in Malmö and has started her own makoli brewing with her partner Nilsi. June has always found hygge in making her own Korean rice wine.
Fee per person: DKK 120,-
LIMITED NUMBER OF PARTICIPANTS  – Sign up in advance!
Tider/ Schedule: (Only 15 participants per session)
Friday June 15: 14:00 – 14:.45 Makoli Workshop A
Saturday June 16: 15:00 – 15:45 Makoli Workshop B – SOLD OUT
TILMELDING/REGISTRATION:
Send email til: DIYkimchi@gmail.com med angivelse af/ Send email to DIYkimchi@gmail.com with the following info:
1. Navn(e) på deltager(e)/ Name of participant(s)
2. Workshop navn/ Workshop Name
3. Kontakt email/ Contact email
Overfør beløb DKK 120- via Mobile Pay til 69549 – HUSK at angive deltagernavn, så vi kan identificere tilmelding./
Transfer DKK 120,- via MobilePay or contact us at DIYkimchi@gmail.com if you don't have Mobilepay. Remember to write participant's name with the transfer.

Tilmeldingen er først gyldig, når vi har modtaget betaling/ Registration is only valid when we have received payment.
Når tilmeldingen er registreret, fremsendes en email bekræftelse, som skal printes og medbringes til workshoppen./ When the registration is finalized, you will receive an email confirmation. Print and bring to the workshop.
Øvrige betingelser/ Other conditions:
Tilmeldingsgebyret refunderes ikke. Hvis du lider af fødevareallergier, skal du give besked til workshop ansvarlig inden workshoppens start./ The registration fee is non-refundable. If you suffer from food allergies, it is mandatory you advise the workshop leader before the start of the workshop.